Affordable baseball gloves are the first choice for those who are just starting to learn about baseball. However, do the cheap baseball gloves have enough performance to meet your needs? Are they durable and comfortable enough?
If you are concerned about the above issues, refer to the best baseball glove under $100 below. These products are reasonably priced but also have excellent performance, durability, and comfort. 
The Best Baseball Glove Under $100 (In-Depth Reviews)
Manufacturers of low-cost gloves often sacrifice product characteristics to make good budget options. However, with the suggestions below, you will have the best experience while paying the lowest amount.
#1. Rawlings Player Preferred Glove Series – Best for Overall
Finding a glove model when limited by budget is quite a challenge. Fortunately, I found the Rawlings Player Preferred Glove Series during my testing.
This Rawlings glove meets all the expectations of budget-minded players.
Right on the first test, I was surprised by the comfort of this cheap glove. Its shock-absorbing protection works well even during the heaviest of impacts. Meanwhile, the flexible adjustable strap provides maximum comfort.
I also appreciate its material. While it's not the highest quality material, it's luxurious enough to create a beautiful look. More specifically, the gloves also show no signs of wear after a long time.
Ease of use is also an advantage I appreciate in this glove model. It didn't take long to break in, even in the beginning.
ZeroShock pain relief technology is also the highlight that surprises me in this glove model. It offers excellent comfort far beyond my expectations.
My only complaint is its size; the manufacturer says its 12-inch size is suitable for adults. It seems specific to recreational baseball or softball of various skill levels.
Yet, I am not satisfied with its size option. Its 12 inches is too small for many other adults and me.
Pros
Easy to break in.
Durable material.
Flexible adjustable strap.
Pain relief technology works well.
The shock protection layer works well.
Cons
The size is not too suitable for adults.
#2. Franklin Sports Baseball Fielding Glove – Best for Durability
Franklin impressed me with its full-grain cowhide leather. Not many options in the same price range use this durable and luxurious material.
But this one is not just a high-quality material product. It also possesses a host of other commendable advantages.
Optimal efficiency is the first advantage I feel with this glove model. I had no trouble getting used to its supple leather material. In every match, I quickly got used to and mastered my Franklin glove.
After a long time, I am still quite satisfied with the smoothness and comfort of the gloves. Its size perfectly fits my hand. It also features extra soft padding to ensure maximum comfort.
I also appreciate the convenient design for quickly holding the ball and removing the glove. Not many options are affordable, but they have a unique shallow I-Web bag design like the Franklin.
Yet, there still exist some disadvantages. For example, its included strap is not too sturdy. Immediately after the first use, the lanyard was torn because of its fragile leatherette material.
To fix this problem, I replaced it with a more advanced lanyard. Aside from the unfortunate drawback of the laces, I don't have complaints about this model.
Pros
Easily disassembled.
Super soft, breathable cushion.
Soft and flexible leather material.
Designed for easy handling and handling.
Smooth and comfortable after a long time of use.
Cons
The lanyard is not too strong.
#3. Rawlings Renegade Glove Series – Best for Beginners
I always recommend the Rawlings Renegade Glove Series for beginners. The ideal glove for softball players impresses its optimal design for maximum comfort and protection.
The notable feature is that it has a mesh back. This feature makes the glove more sustainable than many other options in the same segment. Yet, it also better balances speed and optimization.
I am also pleased with the comfort and protection that Rawlings gloves provide. Its padding protects my palm and index finger very well.
Rawlings Renegade Glove Series also possesses essential features that are very helpful for beginners.
Some might be pain-relieving wristbands or flexible shells for easier catching. 
This pattern is also pretty easy to break into. Therefore, right the first time, I quickly got used to and was satisfied with this glove model's features.
I am pretty satisfied with the quality of Rawlings Renegade Glove. Yet, in the beginning, I was slightly disappointed with its back design.
Although it is covered with a durable and comfortable feel, it does not provide the aesthetic effect I expected.
Pros
Enduring.
Good protection.
Useful for beginners.
Padded wrist pain relief.
Good balance between speed and comfort
Cons
The mesh design is not too luxurious.
#4. WILSON 2021 A500 Youth Baseball Glove – Best for Kids
The WILSON 2021 A500 Youth Baseball Glove is a decent size for kids who are learning about baseball for the first time. The H-Web design and its shallow pockets are also quite suitable for beginners. Even the first time I used it, I could quickly get the ball out of the glove but kept the perfect fit.
In addition to the design advantages, the Wilson 2021 A500 also conquered me with many other impressive benefits.
Pro-neck skin attracted me from the very first use. It is durable and provides the same comfort as many gloves in the high-end segment.
The ability to protect the little finger and thumb is also a point I appreciate in this hand grip. The manufacturer has adjusted to bring the little finger and thumb closer, but it still does not affect the overall design of the glove. 
That is also why even children or people with smaller hands can still enjoy maximum comfort when using this glove model.
I also appreciate the material of this glove model. Different from the options I have used before, the Wilson A500 uses microfiber material. Microfiber makes the glove lighter but outstandingly durable compared to ordinary leather.
Besides, this particular material also has good moisture resistance. Thanks to that, I am always comfortable and have no difficulty in the cleaning process.
Its impressive advantage is the rotation control technology. Previously, I only found this technology in high-end glove models. But for a reasonably affordable price, it was beyond my imagination regarding friction and balls and gloves.
What Wilson brings to this reasonably priced product took me by surprise. The only thing I think the manufacturer could do better is to change the design to make it easier to break in.
Pros
Easy cleaning.
Advanced rotation control technology.
The microfiber material is light and durable.
Suitable for both children and people with small hands.
Cons
Breaking in is quite difficult.
#5. Wilson A450 Baseball Glove Series – Best for Diversity
I recommended the Wilson A450 Baseball Glove Series to a traveling baseball player who plays in different positions. And he is pretty satisfied with the experience that this glove model brings.
Wilson A450 provides good support for both pitchers and shortstop players. It also pleases me with its size suitable for many different audiences.
I also had no trouble breaking in or performing manipulations with my shadow during testing. The gloves also have a pretty nice design. The material is also quite soft, giving me a luxurious and high-class feeling. 
However, this full-grain leather material is entirely artificial. It is also the biggest drawback of this versatile glove for many different players.
For under $100, I could hardly ask for more from the Wilson A450.
Pros
Break in easily.
The design is quite lovely.
The right size for a variety of needs
Quite convenient for performing operations.
Suitable for many objects playing in many different positions.
Cons
Artificial leather material is not too durable.
Buying Guide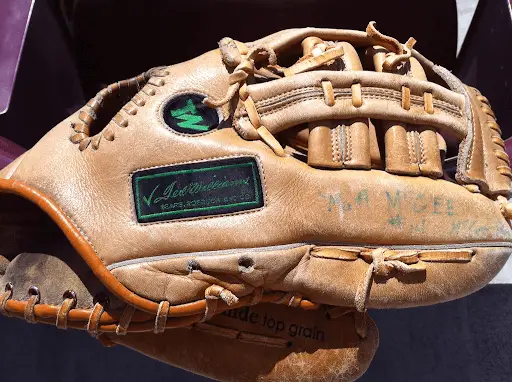 Choosing baseball gloves with a limited budget is quite a challenge. You will have to consider its price and its use value. 
If you do not want to waste your money on poor-quality cheap gloves, immediately refer to some essential criteria below.
Material
Material is one of the factors that affect the price of baseball gloves.
The most common materials can be leather, synthetic leather, and fabric. Each type brings a different experience and usage time.
The highest quality gloves are usually made from full-grain cowhide and undergo rigorous processing. They will often provide a comfortable user experience and give you good support for catching the ball.
Yet, cowhide gloves are also among the most expensive options. Meanwhile, less advanced materials make products more affordable.
Gloves under $100 are usually from synthetic leather or fabric. Although these materials are not too luxurious, they are light and cheap.
Besides, manufacturers have also made great efforts to change the design for products with a more attractive and luxurious appearance.
Size
Size is an important criterion affecting comfort when using gloves. You should consider your hand measurements and needs when choosing a glove size.
Too loose or tight products will make you uncomfortable during use, affecting your handling operations.
Some models come with adjustable straps, which are especially useful and convenient for real-life matches. This extra accessory will help me adjust its size flexibly according to my measurements.
Webbing
Getting more balls is a common goal for any baseball player. And grid design can help you to complete your task excellently.
There are quite a few different grid styles for you to consider. Depending on where you are on the team, you can find the option that best suits your needs.
For example, gloves with large pockets would be the optimal choice for those looking for high fishing efficiency. Meanwhile, domestic players only need a bag of moderate depth.
Comfort
Baseball is one of the most injury-prone sports. And to protect yourself, you should look for gloves with comfortable and reliable padding.
Even on a tight budget, you must focus on thick cushioning, protecting your hands from high ball speeds and other bumps.
During the selection process, you can also review the results of the impact absorption tests. Models that pass this test are comfortable and help protect hands from injury.
Warranty
Warranty is also an issue you need to consider when choosing cheap gloves.
This service will indirectly represent the product's durability and the experiences you get during the shelf life.
I'm not asking for cheap gloves that require years of warranty service like many high-end options. 
Yet, the ultimate version still needs to get the same 1-year warranty. These choices make me quite confident in terms of quality and shelf life.
Brands
Famous brands are always associated with relatively high prices. Yet, you can still find reasonably priced products under $100.
Rawlings is quite a famous brand in the field of producing cheap baseball gloves. 
Products from this brand are always loved for their excellent quality and suitability for players of different levels.
Wilson is also a brand that offers high-quality products at a reasonable price. Meanwhile, I'm also quite fond of Easton's gloves.
They meet my needs quite well, suitable for amateur and professional players.
FAQs
Besides the criteria to consider above, you must consider many other factors when choosing a reasonably priced basketball glove. Below are the most frequently asked questions that you can refer to solve your problem.
Is the A2000 the best glove?
A2000 is one of the most exciting baseball glove brands today. Products from this brand can ultimately compete with many options from other cheap glove manufacturers such as Rawling or Wilsons.
What glove do most MLB players use?
Professional MLB players often prefer to use gloves from Rawlings. In addition, experienced players often use Wilson gloves or some selection from other quality brands.
Is the A2000 or A2K better?
In terms of price, the A2000 is the better choice. However, considering the quality, A2K is still rated higher. The AK2 glove models use high-quality leather, meticulously finished, providing the best user experience.
What glove does Tatis use?
Tatis uses Mizuno Pro Select Series gloves size 11.75".
Should I steam my glove?
You can quickly steam gloves. However, this habit does not help your gloves. 
Especially for leather gloves, steaming can affect the fibers, making the leather softer and less durable.
What glove did Chipper Jones use?
Chipper Jones uses Mizuno Pro Limited, which is durable and easy for beginners.
Conclusion 
I've tested many models, and not many options make me as happy as Rawlings Player Preferred and the glove models I have introduced in this article.
If you are interested in cheap gloves, I hope my top 5 best baseball gloves under $100 have been helpful in your selection. Thank you for reading!